Classic Pontiac Ads
Check out these classic Pontiac ads!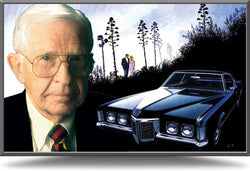 Art Fitzpatrick
It's safe to say that when you think of adverting GTO's or any Pontiac for that matter, the name Art Fitzpatrick immediately comes to mind. The man's artwork stands out as probably the best and most memorable advertising in automobile history. We celebrate his work with some of his most memorable pieces.
This page is dedicated to Art and the wonderful way he showed his beautiful interpretation of the stunning lines of a Pontiac.