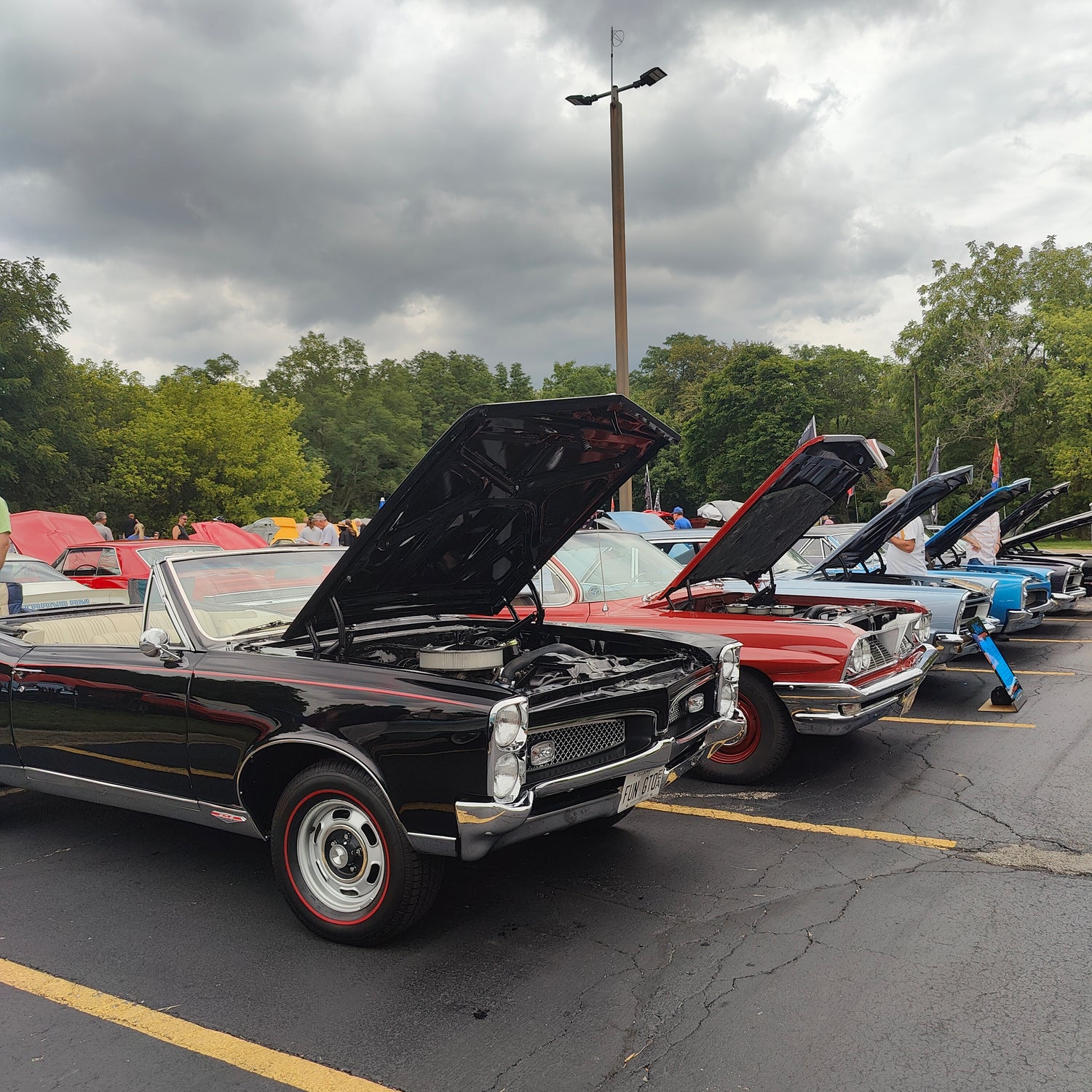 August 11-13, 2023
Thank you for joining us at the 32nd Annual Indian Uprising All Pontiac Weekend! With over 300 Pontiacs in attendance throughout the weekend, our show couldn't have been a success without you! Check out the collages below!
2023 Title Sponsor - Rally Insurance Group
Events
Set Up/Show Times

Friday, August 11th will be just for set up. We encourage those who will be parking in the indoor arena to arrive on this day. Otherwise, the show will officially start when registration opens on Saturday, August 12th.
Special Guests/Speaker Panel

-Speakers-

Jim Mattison

Marvin Minarich

Ron Moller

Ron Rocchi

Randy Prybil

-Special Guests-

Norah the Clown

K9 Comfort Dogs

Arnie Beswick

MORE TBD
GENERATION Band

Generation returns for the 2023 Indian Uprising! Join us Saturday August 12th from 4pm-9pm for the show! 50/50 raffle tickets will be sold and winners picked at the first band break. Beverages available for purchase, but feel free to bring your own food and drinks.
Salute to Veterans

At 12:00pm Sunday, August 13th, a Salute to Veterans will take place in front of the hotel. We encourage all Veterans to join us in the salute as well as all who wish to honor those that served our country.
50/50 Raffle

Raffle tickets will be sold all weekend! First drawing is during the first band break on Saturday, August 12th. The second drawing will take place before awards on Sunday, August 13th.
Vendors

This year's vendors are TBD.
Special Awards/Show Awards

Feature car awards (Saturday). Show awards (Sunday).

100 awards, 5 Best of Show & Special Guest Picks.

*Award voting by registered cars owners only*
2023 Feature Cars

GTO, Firebird/Trans Am, 2+2
Charities
LCC K-9 Comfort Dog Ministries

Friends for Therapeutic Equine Activities

Humanitarian Service Project
Show Committee - THANK YOU!
Tom Prendergast

tlpdds1@sbcglobal.net

Show Chair
Special Guest/Speakers
Charity Coordination
Canine Patrol Display
Seminar Schedule
Band/Entertainment

Ken Arendt

kenarendt@att.net

Vice Chair
Hotel Coordination
Golf Cart Rental
Garbage/Waste Coordination

Janet Lupo

jlupo19@yahoo.com

Post-show Sponsor Thank You Letters
Donations
Sponsors
Sponsor Funds

Doug Rudisuhle

gus067@aol.com

Dash Plaques
Awards/Trophies

Jim & Julie Suva

jimsuva34@aol.com

Show Flier
Advertising/Social Media
Window Cards

Karli DeMarco

karlid1107@outlook.com

Registration
Pre-Registration
Shirt Design
Website

Mark Balinski

mwbalinski@gmail.com

Voting Tabulation/Machines

Denny Vodvarka

dvgtoman@yahoo.com

Window Cards
Arena Waiting List

Dario Fioretti-Frank

dariofrank@sbcglobal.net

Voting Tabulation/Machines
Food Menu/Ice Cream Vendor Coordination

Bruce Brown

brownb_1715@msn.com

Awards Presentation & Setup
Show Field/Vendor Layout
Spectator Parking
Show Parking

Russ Asbury

cubsraiders@sbcglobal.net

Show field/Vendor Layout
Spectator Parking
Show Parking